≻
Ale Trail
Henley is still blessed with numerous traditional pubs. One of the best ways of discovering a few of them, while discovering the town at the same time is to take part in the Henley Ale Trail.
Local Pub Company Brakspear challenge you to visit their 10 pubs in the town, enjoy a pint of Brakspear Bitter or Oxford Gold and get your map stamped.
The map can be downloaded here, can be picked up at any of the participating pubs or in the Tourist Information Centre at the Town Hall.
Visit the Three Horseshoes or the Saracen's Head as your final destination to claim your FREE pint of Brakspear Bitter and a rather fetching T-shirt.
Don't feel under pressure to visit all the pubs in the same day, as there is no end date for the Trail and if you fancy doing it more than once, or just fancy a change from the t-shirt, you can choose the gift set that includes 2 x 500ml of Brakspear ale and 1 x Brakspear tankard pint glass along with a FREE pint of Brakspear Bitter.
There's also an Ale Trail party every year for everyone who has completed the trail and if you want to see more of the beautiful countryside in the area you could always follow one of the Country Ale Trails.
More Information www.henleyaletrail.co.uk
If you don't have time to visit lots of pubs try Henley's own micro brewery, Lovibonds, making hand crafted beers in quirky premises tucked behind Greys Road car park.
More Information www.lovibonds.com
PUB WALKS
What could be better than a country walk to get the blood pumping and some fresh air in your lungs followed by a well-deserved drink and a bite to eat in the pub? Download our free maps from www.pub-trails.co.uk and there's even walks that start and end in Henley town centre too Henley Pub Trails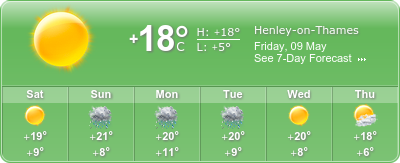 Upcoming Events...
Rewind Festival South 2022
Temple Island Meadows, Henley on Thames, RG9 3DB
Date(s): 19/08/2022 - 21/08/2022
Time:12:00 am - 12:00 am
---
Henley Literary Festival 2022
Various places around the town, Henley on Thames, RG9 2AQ
Date(s): 01/10/2022 - 09/10/2022
Time:12:00 am - 12:00 am
---
Regular events...
Henley's Markets
The Farmers Market takes place in Henley Market Place the 2nd Saturday, 4th Thursday and 5th Sunday (if there be one) of the month.
Every Thursday the Charter Market can be found in the Market Place.
---