≻
≻
Bunker Opticians
Whilst wearing PPE, Bunker Opticians are able to offer eyecare using the latest technology of Optomap and OCT retinal imaging. This means they can provide a comprehensive assessment of your eyes whilst reducing the time spent in close proximity.
They are also pleased to introduce their new hearing care service, Pinnacle Audiology. Their services include comprehensive hearing assessments, wax removal and custom hearing products using the latest 3D ear scanner Otoscan.
Appointments can be made online or by calling 01491 412020
45, Duke Street, Henley on Thames, RG9 1UR
01491 412020
View next...
Upcoming Event...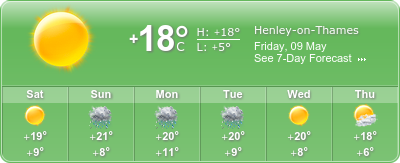 Upcoming Events...
Meditation at the Town Hall
Town Hall, Large Hall, Market Place in the Town Centre, Henley on Thames, RG9 2AQ
Date(s): 12/10/2021 - 28/06/2022
Time:12:15 pm - 01:30 pm
---
Henley Festival 2022
Regatta Site, Henley on Thames, RG9 3DA.
Date(s): 06/07/2022 - 10/07/2022
Time:06:00 pm - 06:00 pm
---
Henley Swim Festival 2022
Temple Island Meadows, Henley on Thames, RG9 3DB
Date(s): 10/07/2022 - 10/07/2022
Time:09:00 am - 04:00 pm
---