≻
Henley by Bus
Currently, PPE/social distancing are required.
From Oxford take the River Rapids X39 or X40 to Henley via Wallingford.
From Reading or High Wycombe take the Arriva 800 or 850 service to Henley or Carousel X80.
From Maidenhead take the Courtney Buses 239 service to Henley.
Centrally located bus stops for services listed above are either in Hart Street close to Barclays Bank or in Bell Street close to Boots.
Local bus service 151,152,153 operating around the town works on a hail and wave basis. Just give the driver a wave and he will stop on request where it is safe to do so.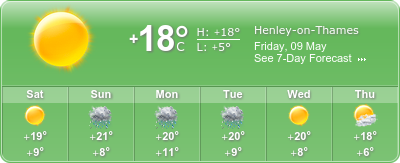 Upcoming Events...
Henley Literary Festival 2022
Various places around the town, Henley on Thames, RG9 2AQ
Date(s): 01/10/2022 - 09/10/2022
Time:12:00 am - 12:00 am
---
Regular events...
Henley's Markets
The Farmers Market takes place in Henley Market Place the 2nd Saturday, 4th Thursday and 5th Sunday (if there be one) of the month.
Every Thursday the Charter Market can be found in the Market Place.
---