≻
≻
Henley Christmas Festival
Back after a years break, the annual Christmas Festival will take over the centre of the town and include the switching on of this years lights. There will be numerous stalls offering gifts, food and drink, Father Christmas, carols around the tree, rides and much much more!
Fun Festive Timetable for Friday 26th November 2021. Please note that road closures will be in place from 3pm to 11pm. There will be no vehicular access through Hart Street, Bell Street, Duke Street and Market Place except for emergency services.
| | |
| --- | --- |
| 4.00pm - 8.00pm | SANTA will be in his magical Grotto at Hotel du Vin. |
| 5.00pm | Festival opened by the Town Crier and the Mayor of Henley on Thames, Councillor Sarah Miller. |
| 5.10pm | The Darren & Joe Show |
| 6.00pm | Eight Ray Music. |
| 6.30pm | Traditional CAROL SINGING by Henley Youth Choir. |
| 7.00pm | Switch on of the large INVESCO sponsored Christmas Tree Lights in Market Place by The Mayor, a representative from Invesco and the winner of the Mayor's Christmas Card Competition. |
| 7.05pm | Christmas Carols around the tree, accompanied by the Woodley Concert Band. |
| 7.15pm | The Ugly Sisters – Kenton Theatre. |
| 7.20pm | Hot Stuff – Including the Henley Christmas Song. |
| 7.45pm | Rock Choir. |
| 8.15pm | Eight Ray Music. |
| 5.00pm – 9.00pm | RETAIL OFFERS AND LATE-NIGHT SHOPPING; Stalls around the town plus small FUN FAIR RIDES & ATTRACTIONS, all areas including The Market Place, Bell Street, Duke Street and Hart Street. |
| 9pm | Home to wrap presents or visit a hospitality outlet in the town to celebrate further …. |
This event is being organised by Henley Town Council who are very grateful to Invesco, Thames Valley Police and St Johns Ambulance.
Details correct and the time of press but may be subject to change.
Location
Market Place and Town Centre, Henley on Thames, RG9 2AQ
Date / Time
Friday, November 26, 2021
05:00 pm - 09:00 pm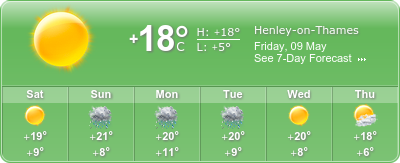 Upcoming Events...
Meditation at the Town Hall
Town Hall, Large Hall, Market Place in the Town Centre, Henley on Thames, RG9 2AQ
Date(s): 12/10/2021 - 28/06/2022
Time:12:15 pm - 01:30 pm
---
Henley Festival 2022
Regatta Site, Henley on Thames, RG9 3DA.
Date(s): 06/07/2022 - 10/07/2022
Time:06:00 pm - 06:00 pm
---
Henley Swim Festival 2022
Temple Island Meadows, Henley on Thames, RG9 3DB
Date(s): 10/07/2022 - 10/07/2022
Time:09:00 am - 04:00 pm
---
Regular events...
Henley's Markets
The Farmers Market takes place in Henley Market Place the 2nd Saturday, 4th Thursday and 5th Sunday (if there be one) of the month.
Every Thursday the Charter Market can be found in the Market Place.
---