≻
Culture
The arts thrive in Henley with many local societies dedicated to cultural pursuits, however if you are visiting there are a few which you should take the time to visit.
Galleries
There are several art galleries in the town with exhibitions and objects ranging from the local artist showcase at The Old Fire Station Gallery to contemporary images at the Lemongrove and Jacks Gallery. The River and Rowing Museum also exhibit modern British (including Peter Blake, John Piper and Julian Trevelyan). Our newcomer to the town is Informality situated Market Place. They have a programme of events and opening nights, which you can access further details from their website informality.co.
Cinema
It is rare now for a small town to have its own cinema. Saved for the town in a campaign led by the late Beatle George Harrison, Henley's cinema was rebuilt after the redevelopment of the site by Waitrose in the early 1990's. It is called the Regal Cinema and listings can be found if you click on the link above.
Kenton Theatre
One of the oldest working theatre's in the country the Kenton puts on an eclectic mix of amateur and professional performances, including musicals, comedy, ballet and music in an auditorium dating back to 1805.
Concerts & performances
Henley has a number of choirs and a highly regarded symphony orchestra. There is also a thriving music scene with live music to be found in many of the local pubs. Brakspear's Festival every November gets the whole town jumping. For details of performances see the What's On pages.
Festivals & Events
Henley is a town of festivals. Throughout the year there is something for everyone, including international music stars, famous writers and edgy comedians. Below is a list of Henley's main cultural events:
Henley House & Garden Show – New in 2015 over 40 exhibitors and inspirational talks
Henley Arts Trail – Brilliant exhibitions throughout the town and surrounding area
Henley Festival – Five wonderful evenings of music, comedy and culture on the riverside
Henley Fringe – Two weeks prior to Edinburgh many acts hone their material in Henley
Rewind Festival – Relive the 1980's in the biggest celebration of music from the decade in the country
Henley Literary Festival – One of the best in the country with well-known authors from all genres telling their tales
Brakspear Festival – A week of music guaranteed to get you tapping your feet and snapping your fingers
Living Advent Calendar – A live performance somewhere in Henley every night during Advent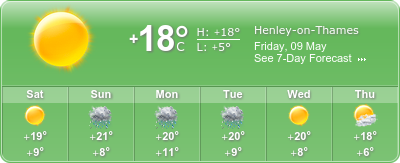 Upcoming Events...
Henley Farmers Market
Market Place, Henley on Thames, RG9 2AQ
Date(s): 10/10/2020 - 10/10/2020
Time:08:00 am - 02:00 pm
---
Henley Farmers Market
Market Place, Henley on Thames, RG9 2AQ
Date(s): 22/10/2020 - 22/10/2020
Time:08:00 am - 02:00 pm
---
Regular events...
Henley's Markets
The Farmers Market takes place in Henley Market Place the 2nd Saturday, 4th Thursday and 5th Sunday (if there be one) of the month.
Every Thursday the Charter Market can be found in the Market Place.
---