≻
≻
Danesfield House
A quintessentially British country house hotel a few miles outside Henley, Danesfield House has sixty-five elegant bedrooms and suites, each providing a luxury base from which to enjoy the hotel's magnificent surroundings.
Accommodation rates include full use of the award-winning Danesfield House Spa – the 20 metre pool, jacuzzi, sauna, steam room and fully equipped gymnasium.
Danesfield House also has a top class restaurant and orangery serving afternoon tea.
Danesfield House, Henley Road, Medmenham, SL7 2EY
01628 891010
enquiries@danesfieldhouse.co.uk
View next...
Upcoming Event...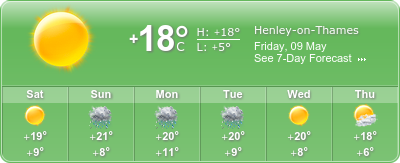 Upcoming Events...
Meditation at the Town Hall
Town Hall, Large Hall, Market Place in the Town Centre, Henley on Thames, RG9 2AQ
Date(s): 12/10/2021 - 28/06/2022
Time:12:15 pm - 01:30 pm
---
Henley Craft Market
Market Place, Henley on Thames, RG9 2AQ
Date(s): 24/10/2021 - 24/10/2021
Time:08:00 am - 04:00 pm
---
Henley Farmers Market
Market Place, Henley on Thames, RG9 2AQ
Date(s): 28/10/2021 - 28/10/2021
Time:08:00 am - 02:00 pm
---