≻
Festivals and Events
This is a town that enjoys a party and has more events to enjoy than anywhere else in the region. From the worlds' greatest regatta to an internationally renowned arts festival Henley offers something that everyone can enjoy. If you're planning on visiting for a day, weekend or a week, attending one of Henley's famous events is a must.
Henley Youth Festival – A unique festival celebrating the achievements of local young people
Henley Arts Trail – Brilliant exhibitions throughout the town and surrounding area
Henley Women's Regatta – The most prestigious women's regatta in the world attracting thousands of competitors
Henley Royal Regatta – The world's most famous regatta and a huge party for residents and visitors, not to be missed
The Henley Festival – Five wonderful evenings of music, comedy and culture on the riverside
Thames Traditional Boat Festival – A two day celebration of messing about in boats
Rewind Festival – Relive the 1980's in the biggest celebration of music from the decade in the country
Henley Literary Festival – One of the best in the country with well-known authors from all genres telling their tales
Brakspear Festival – A week of music guaranteed to get you tapping your feet and snapping your fingers
Living Advent Calendar – A live performance somewhere in Henley every night during Advent
Christmas Festival – One night when everyone flocks to enjoy festive entertainment in the town centre
For more details do look at the Events Calendar.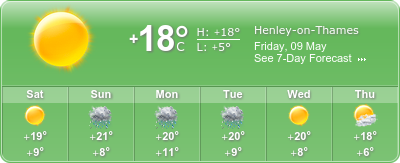 Upcoming Events...
Meditation at the Town Hall
Town Hall, Large Hall, Market Place in the Town Centre, Henley on Thames, RG9 2AQ
Date(s): 12/10/2021 - 28/06/2022
Time:12:15 pm - 01:30 pm
---
Henley Festival 2022
Regatta Site, Henley on Thames, RG9 3DA.
Date(s): 06/07/2022 - 10/07/2022
Time:06:00 pm - 06:00 pm
---
Regular events...
Henley's Markets
The Farmers Market takes place in Henley Market Place the 2nd Saturday, 4th Thursday and 5th Sunday (if there be one) of the month.
Every Thursday the Charter Market can be found in the Market Place.
---