≻
≻
HENLEY HEALTH FESTIVAL
Healthy Body Healthy Mind - a Health Festival is being organised by Henley Town Council in conjunction with The Bell Surgery.
Jennifer Benavidez, an international dance teacher who teaches weekly Wednesday night SALSA classes at Revolution de Cuba Reading, will be opening the event doing Salsa dancing! (SalsaBachataSocialClub.com)
A series of talks and demonstrations will take place in the Town Hall regarding health and well-being for all ages.
Participants include charities, support groups, gyms, walking groups, alternative medicine, Bell Surgery GP support, self-help groups. With offers, live demo's, taster workshops, and talks on a variety of interesting and health related topics.
Stands will be in the Town Hall and Market Square celebrating all that is available in Henley to help everyone is this high pressure busy world that we live in.
Other activities that are collaborating are a morning of volunteering at the Kenton Theatre - from 10am - 12noon. So good for helping individuals to get out the house and meet people.
It is also the International Day of Peace so join in some 'Heartfulness' meditation from 2–2:30 pm at the Henley Practise, Greys Road Car Park.
The whole event is kindly being sponsored by Spire Dunedin.
10 – 12noon All about VOLUNTEERING at the Kenton Theatre pop in for a coffee and a chat good for helping individuals to get out the house and meet people.
11.30 Age UK – talk on SOCIAL PRESCRIBING
12 noon Fitness Space will be going a FITNESS TALK AND DEMONSTRATION
12.30 Sue Turner (Candela Clinical Hypnosis) will talk about Hypnotherapy and Neuro Linguistic Programming and how it can help reframe your thinking and motive you to live a fulfilling and happy life.
13.00 Rekha Kapoor – Inspire Health Knowledge – demonstrating MINDFULNESS TECHNIQUES AND FREE MINDFULNESS WORKSHOP
13.30 Isabelle Borough – Spine Heath and Walks (Demonstration and class)
14.00 International Day of Peace so join in some 'HEARTFULNESS' MEDITATION at the Henley Practice, Greys Road Car Park.
The Henley and Goring ramblers will be offering a walk from the stall on the day. Fitness Space will be testing people's body mass and other measures. Sing Your Pain away will be running a group singing taster. We will also have taster Pranic Healing Treatments for free or a charity donation. Plus much more …….
Location
Town Hall, Town Hall, Market Place, Henley on Thames, RG9 2AQ
Date / Time
Saturday, September 21, 2019
11:00 am - 02:30 pm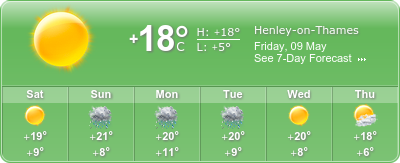 Upcoming Events...