≻
≻
Henley Royal Regatta
Henley Royal Regatta is undoubtedly the best-known regatta in the world. It holds a unique place in the respect and affection of all rowers – both active and retired.
Founded in 1839, it is famous both as a great sporting occasion and as a social event. People travel from all over the world to attend, either as competitors or as spectators.
For more information please click here www.hrr.co.uk
Location
Henley Royal Regatta, Bridge Hart St, Henley on Thames, RG9 2LY
Date / Time
Wednesday, July 3, 2019 - Sunday, July 7, 2019
09:00 am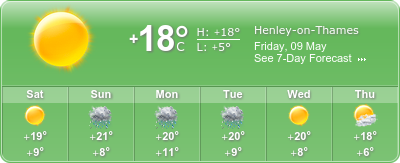 Upcoming Events...
Meditation at the Town Hall
Town Hall, Large Hall, Market Place in the Town Centre, Henley on Thames, RG9 2AQ
Date(s): 12/10/2021 - 28/06/2022
Time:12:15 pm - 01:30 pm
---
Regular events...
Henley's Markets
The Farmers Market takes place in Henley Market Place the 2nd Saturday, 4th Thursday and 5th Sunday (if there be one) of the month.
Every Thursday the Charter Market can be found in the Market Place.
---