≻
Heritage
Steeped in history Henley is packed with interesting buildings that speak down the generations. First described in the 12th Century with little fundamental change since the Victorian era Henley is a quintessential English market town.
The best way to breathe Henley's history is to follow The Henley Trail which guides you on a walk around all of the town's historic streets and buildings. Download the trail by clicking the link above or pick a copy up from the Visitor Information Centre in the Town Hall.
The River & Rowing Museum in Mill Meadows has a fascinating gallery devoted to Henley and Richard Way Booksellers in Friday Street has many books and antiquarian maps of the town and area.
You'll find a large number of historic photos of the town and river on the Henley-on-Thames Past & Present Facebook Group.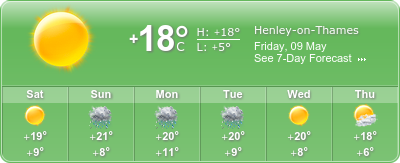 Upcoming Events...
Henley Festival 2021
Regatta Site, Henley on Thames, RG9 3DA.
Date(s): 15/09/2021 - 19/09/2021
Time:06:00 pm - 06:00 pm
---
Henley Eco Business Fair
Henley Town Hall, Market Place ,Town Centre, Henley on Thames, RG9 2AQ
Date(s): 22/09/2021 - 22/09/2021
Time:10:00 am - 03:00 pm
---
Henley Farmers Market
Market Place, Henley on Thames, RG9 2AQ
Date(s): 23/09/2021 - 23/09/2021
Time:08:00 am - 02:00 pm
---
Regular events...
Henley's Markets
The Farmers Market takes place in Henley Market Place the 2nd Saturday, 4th Thursday and 5th Sunday (if there be one) of the month.
Every Thursday the Charter Market can be found in the Market Place.
---