≻
≻
Hobbs of Henley
Looking for a unique venue for a private party, celebration or corporate event? Set yourself apart from the rest and choose from one of our fleet of luxurious party boats. Regarded as one of the oldest and most elegant fleets of boats on the Thames, Hobbs ensure that events go off with a bang and create memories for guests that will last a lifetime.
Hobbs of Henley , Station Road, Henley on Thames, RG9 1AZ
01491 572035
View next...
Upcoming Event...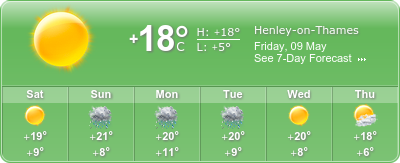 Upcoming Events...
Meditation at the Town Hall
Town Hall, Large Hall, Market Place in the Town Centre, Henley on Thames, RG9 2AQ
Date(s): 12/10/2021 - 28/06/2022
Time:12:15 pm - 01:30 pm
---
Henley Festival 2022
Regatta Site, Henley on Thames, RG9 3DA.
Date(s): 06/07/2022 - 10/07/2022
Time:06:00 pm - 06:00 pm
---
Henley Swim Festival 2022
Temple Island Meadows, Henley on Thames, RG9 3DB
Date(s): 10/07/2022 - 10/07/2022
Time:09:00 am - 04:00 pm
---