≻
≻
Kotimme
Private 2 roomed Annexe attached to the main house with a King size Bed & Sofa Bed in the lounge.
Private entrance includes a Lounge, Hallway, Private Bathroom & Double Bedroom.
Set in a lovely private quiet road in Lower Shiplake – 2 miles from Henley but with good bus & train connections within a 5 min walk from the property. Ideal for a couple or family with kids.
Lower Shiplake is a lovely village on the Thames within a 7 min drive of Henley Town Centre & a 15 min drive from Reading – it is on the Thames Path which you can use to walk to Henley from the Village. It has a local award winning pub, butchers & local village shop.
The grounds are shared with the owners and there is private parking on site. The village has its own station which connects to Henley in 2 mins but also connects to trains to Reading & London Paddington.
The property has a fridge & hot drinks are supplied. Continental Breakfast can be supplied on request for an extra cost.
The owners have lived in the area for over 30 years so have a lot of local knowledge.
The owners also have a new boat which they rent out during the summer months – which seats 8.
Please Email for more pictures & information.
Kotimme, Brackendale, Crowsley Road, Lower Shiplake Nr Henley on Thames , RG9 3JT
07810 798536
View next...
Upcoming Event...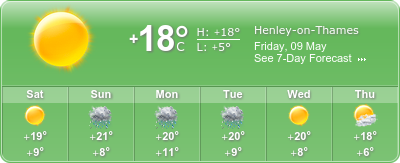 Upcoming Events...
Meditation at the Town Hall
Town Hall, Large Hall, Market Place in the Town Centre, Henley on Thames, RG9 2AQ
Date(s): 12/10/2021 - 28/06/2022
Time:12:15 pm - 01:30 pm
---
Henley Craft Market
Market Place, Henley on Thames, RG9 2AQ
Date(s): 24/10/2021 - 24/10/2021
Time:08:00 am - 04:00 pm
---
Henley Farmers Market
Market Place, Henley on Thames, RG9 2AQ
Date(s): 28/10/2021 - 28/10/2021
Time:08:00 am - 02:00 pm
---