≻
≻
Laurence Menswear
Men's Boutique offering a full selection of seasonal fashions from the best independent brands. These include Suits, Jackets, Trousers, Shirts, Shoes and much much more!
You can also find Laurence Menswear on their Facebook page, www.facebook.com/pages/Laurence-Menswear
Laurence Menswear, 29, Duke Street, Henley on Thames, RG9 1UR
01491 577279
View next...
Upcoming Event...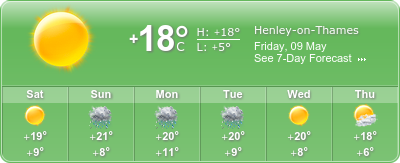 Upcoming Events...
Meditation at the Town Hall
Town Hall, Large Hall, Market Place in the Town Centre, Henley on Thames, RG9 2AQ
Date(s): 12/10/2021 - 28/06/2022
Time:12:15 pm - 01:30 pm
---
Henley Festival 2022
Regatta Site, Henley on Thames, RG9 3DA.
Date(s): 06/07/2022 - 10/07/2022
Time:06:00 pm - 06:00 pm
---
Henley Swim Festival 2022
Temple Island Meadows, Henley on Thames, RG9 3DB
Date(s): 10/07/2022 - 10/07/2022
Time:09:00 am - 04:00 pm
---