≻
≻
Leander Club
Step into Leander Club and you are in for a treat.
The combination of the Club's stunning riverside location and superb facilities makes it an excellent choice for any occasion. Whether, you're getting married, holding a conference, planning a team building event or entertaining special guests, it will be a day to remember.
The choice of meeting rooms and dining facilities make Leander Club an impressive venue for special events, weddings, corporate entertainment, business meetings, conferences, and team building activities or away days.
To complete the package, there is on-site parking, high-speed Wi-Fi and 11 individually styled bedrooms that provide unique 4-star, luxury hotel accommodation.
Leander Club, Henley on Thames, RG9 2LP
01491 575782
View next...
Upcoming Event...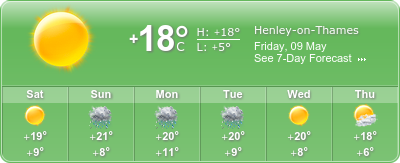 Upcoming Events...
Meditation at the Town Hall
Town Hall, Large Hall, Market Place in the Town Centre, Henley on Thames, RG9 2AQ
Date(s): 12/10/2021 - 28/06/2022
Time:12:15 pm - 01:30 pm
---
Henley Festival 2022
Regatta Site, Henley on Thames, RG9 3DA.
Date(s): 06/07/2022 - 10/07/2022
Time:06:00 pm - 06:00 pm
---
Henley Swim Festival 2022
Temple Island Meadows, Henley on Thames, RG9 3DB
Date(s): 10/07/2022 - 10/07/2022
Time:09:00 am - 04:00 pm
---