≻
≻
Meditation at the Town Hall
Meditation is back at Henley Town Hall.
Revive yourself in your lunch hour.
This is a free event however any donations welcome which go directly to charity .
Starting on Tuesday 12th October.
The Twin Hearts is a guided meditation. No experience needed.
Everyone welcome (suitable for ages 16+ ).
The sessions are run by two local pranic healers, Lucy Irvine and Julia Ashton.
More than ever, we all need to clear our thoughts and emotions and connect with something greater than our own physical being. The Twin hearts meditation is an extremely effective tool to enable this process. When you are filled with calmness and peace of mind, your mind becomes clearer and the process of thinking is quicker.
Meditation on the twin hearts makes a bridge between an emotional love of our soul as well as the high soul of the divine love. Heart and crown energy centers are referred to as "twin hearts". With blessings on twin hearts, this blessing brings on earth the harmony: An invaluable form of the World Service is love, kindness, peace, happiness, and goodwill.
At present, thousands of people from different backgrounds and religions are practicing this meditation.
Join us, find your calm and transform your life.
The meditation will run until Christmas 2022.
(some dates during holiday period may not run - please sign up to the mailing list by emailing lucy@barngalleries.com to keep informed)
Location
Town Hall, Large Hall, Market Place in the Town Centre, Henley on Thames, RG9 2AQ
Date / Time
Tuesday, October 12, 2021 - Tuesday, June 28, 2022
12:15 pm - 01:30 pm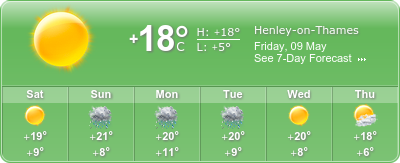 Upcoming Events...
Meditation at the Town Hall
Town Hall, Large Hall, Market Place in the Town Centre, Henley on Thames, RG9 2AQ
Date(s): 12/10/2021 - 28/06/2022
Time:12:15 pm - 01:30 pm
---
Regular events...
Henley's Markets
The Farmers Market takes place in Henley Market Place the 2nd Saturday, 4th Thursday and 5th Sunday (if there be one) of the month.
Every Thursday the Charter Market can be found in the Market Place.
---