≻
Welcome to Midsomer in Henley!
Henley-on-Thames, aka Causton, has appeared in numerous episodes of Midsomer Murders. Fans of Detective Barnaby will recognise many of the filming locations within the town including Gabriel Machin's butcher shop, Tudor House Antiques and the Argyll Public House.
Best ways to visit Midsomer in Henley
Guided Walking Tours
Midsomer Murders is one of the UK's longest-running detective series, and is especially popular because of the scenery in which it is filmed. The real-life locations for the series are the market towns and villages of Buckinghamshire and South Oxfordshire, and we invite you to follow in the footsteps of DCI Barnaby and discover the filming locations and the beauty of this quintessentially English countryside.
Midsomer Tours offer personally guided tours of Midsomer filming locations, which include the area's history and local information.
1-2hr walking tours of either Henley or Dorchester's Midsomer locations, can be customised to suit your needs. Midsomer Countryside Walks, and a separate tour of Watlington are being worked on, and some tours are possible in French and German. Midsomer Tours Blue Badge Guides can also join your coach for a half-day full-day, or the duration of your holiday. They have knowledge on many other locations including Oxford, the Cotswolds and Windsor. To pre-book a Midsomer tour, please contact Graham of Midsomer Tours on graham@tours2order.com +44(0)7827 715353
Henley town walking tour (Midsomer Murders-themed) lasting 1.5-2hours for the current permitted group size
Come with WE Tourist Guides on a walking tour of Henley-on-Thames with a Midsomer Murders theme! Henley has been used several times as a film location for the famous TV detective drama "Midsomer Murders". Bentley Productions has shown a particular fondness for the town, as it oozes the character and charm of the Midsomer villages. The walking tour starts at the coach park, your hotel, the boat trip landing stage, the train station platform or the Town Hall. You will see and learn about the following attractions: Falaise Square (with emphasis on 3 particular buildings where filming has been carried out), the parish church and almshouses, the riverside (where "Dead in the water" was filmed), the theatre (one of the smallest in the country) and the old and new breweries. Re-live together the colourful story plots and remember the characters while treading in the footsteps of Inspector Barnaby and his sergeants. If clients would like boat trip times to be researched to coincide with the end of the tour, that can be arranged. For more information about booking, please contact Bobbie from WE Tourist Guides on 07770 933117.
Self-Guided Walking Tours
An easy to follow, self guided walking tour is available. Call into the Visitor Information Centre in the Town Hall and pick up a free copy, or download from the Midsomer website, for link scroll down the page.
Midsomer by River
Henley's two boating companies both offer Midsomer opportunities on the river:
Rent Midsomer Maiden from HSC Boats, ideal for parties of 10-12, must be booked in advance.
Hobbs of Henley are one of the town's longest established businesses. You can hire or charter a boat or go on a Midsomer Cruise.
By car
There are two Midsomer Murders Driving Trails, the southern trail and the northern trail. Both trails pass through Midsomer Murders countryside, with the southern trail taking in Henley and the surrounding locations such as Wallingford and Mapledurham House.
Download the Midsomer Murders Southern trail
Southern trail: Henley on Thames – Nettlebed – Wallingford – Moulsford – Goring – Mapledurham – Rotherfield Peppard/Rotherfield Greys – Henley on Thames (total drive time approximately 3 hours).
Download the Midsomer Murders Northern trail
Northern trail: Dorchester – Wallingford – Ewelme – Watlington – Lewknor – Aston Rowant – Chinnor – Thame – the Miltons and the Haseleys – Dorchester (total drive time approximately 3.5 hours).
For more information www.visitmidsomer.com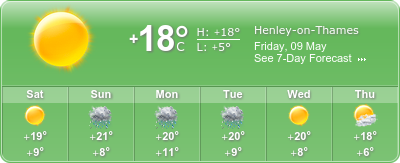 Upcoming Events...
Meditation at the Town Hall
Town Hall, Large Hall, Market Place in the Town Centre, Henley on Thames, RG9 2AQ
Date(s): 12/10/2021 - 28/06/2022
Time:12:15 pm - 01:30 pm
---
Henley Festival 2022
Regatta Site, Henley on Thames, RG9 3DA.
Date(s): 06/07/2022 - 10/07/2022
Time:06:00 pm - 06:00 pm
---
Henley Swim Festival 2022
Temple Island Meadows, Henley on Thames, RG9 3DB
Date(s): 10/07/2022 - 10/07/2022
Time:09:00 am - 04:00 pm
---
Regular events...
Henley's Markets
The Farmers Market takes place in Henley Market Place the 2nd Saturday, 4th Thursday and 5th Sunday (if there be one) of the month.
Every Thursday the Charter Market can be found in the Market Place.
---