≻
≻
Oxfam
Charity shop selling second-hand women's clothing, second-hand men's clothing and a range of one-off collectables, second-hand home wares, vintage wedding dresses, vinyl, music, books, seasonal favourites like Fair Trade Christmas cards and more.
26 Market Place, Henley on Thames, RG9 2AH
01491 576371
View next...
Upcoming Event...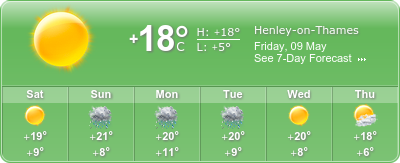 Upcoming Events...
Meditation at the Town Hall
Town Hall, Large Hall, Market Place in the Town Centre, Henley on Thames, RG9 2AQ
Date(s): 12/10/2021 - 28/06/2022
Time:12:15 pm - 01:30 pm
---
Henley Festival 2022
Regatta Site, Henley on Thames, RG9 3DA.
Date(s): 06/07/2022 - 10/07/2022
Time:06:00 pm - 06:00 pm
---
Henley Swim Festival 2022
Temple Island Meadows, Henley on Thames, RG9 3DB
Date(s): 10/07/2022 - 10/07/2022
Time:09:00 am - 04:00 pm
---