≻
≻
Pretty Cottage
A charming, fully furnished, three bedroom character cottage in a calm corner of Henley. Easy walking distance to historic town centre, river and railway.
Pretty enclosed garden with access from a garden room / conservatory. Private parking, garage. Large BBQ Garden furniture Satellite TV flat screen. Broadband, WiFi
First floor family bathroom and ground floor wet-room, with underfloor heating.
0118 940 3426
View next...
Upcoming Event...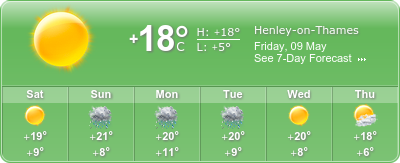 Upcoming Events...
Meditation at the Town Hall
Town Hall, Large Hall, Market Place in the Town Centre, Henley on Thames, RG9 2AQ
Date(s): 12/10/2021 - 28/06/2022
Time:12:15 pm - 01:30 pm
---
Henley Craft Market
Market Place, Henley on Thames, RG9 2AQ
Date(s): 24/10/2021 - 24/10/2021
Time:08:00 am - 04:00 pm
---
Henley Farmers Market
Market Place, Henley on Thames, RG9 2AQ
Date(s): 28/10/2021 - 28/10/2021
Time:08:00 am - 02:00 pm
---