≻
Rewind Festival
The original and biggest festival of '80's music in the UK. Taking place over two days in August on the banks of the River Thames. Henley becomes awash with dayglo, smilies and tutu's at this massive party.
Expect to see performers such as UB40, Tony Hadley, Marc Almond, Rick Astley or Level 42. If they were in the charts in the 1980's the chances are they'll play at Rewind.
Accommodation in town is at a premium so book early if you don't wish to camp. If you're staying in town there will be river taxi's to take you to the festival or you can walk down the towpath enjoying the wonderful spectacle of Henley's river.
Line up for this year's event to be announced in January.
Location
Temple Island Meadows, Remenham Lane, Henley-on-Thames, RG9 3DB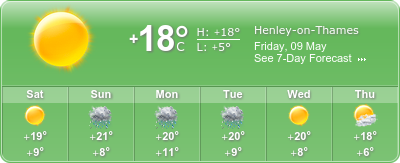 Upcoming Events...
Meditation at the Town Hall
Town Hall, Large Hall, Market Place in the Town Centre, Henley on Thames, RG9 2AQ
Date(s): 12/10/2021 - 28/06/2022
Time:12:15 pm - 01:30 pm
---
Henley Festival 2022
Regatta Site, Henley on Thames, RG9 3DA.
Date(s): 06/07/2022 - 10/07/2022
Time:06:00 pm - 06:00 pm
---
Henley Swim Festival 2022
Temple Island Meadows, Henley on Thames, RG9 3DB
Date(s): 10/07/2022 - 10/07/2022
Time:09:00 am - 04:00 pm
---
Regular events...
Henley's Markets
The Farmers Market takes place in Henley Market Place the 2nd Saturday, 4th Thursday and 5th Sunday (if there be one) of the month.
Every Thursday the Charter Market can be found in the Market Place.
---