≻
≻
Riverside Apartment
A modern apartment with riverside balcony and unrivalled views over the river Thames and bridge. Situated in the heart of Henley-on-Thames town centre and within minutes walk to the Regatta Course and all of the town amenities (park, station, shops, pubs and restaurants).
The living space includes a galley kitchen with built in appliances and an amazing river view, bijou bathroom, living room with a dining table and two large sofas. Includes WiFi and Smart TV (Netflix).
Telephone- Lettings Dept 01491 411066, 07802 768072
View next...
Upcoming Event...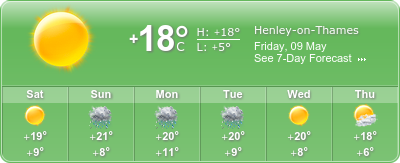 Upcoming Events...
Meditation at the Town Hall
Town Hall, Large Hall, Market Place in the Town Centre, Henley on Thames, RG9 2AQ
Date(s): 12/10/2021 - 28/06/2022
Time:12:15 pm - 01:30 pm
---
Henley Craft Market
Market Place, Henley on Thames, RG9 2AQ
Date(s): 24/10/2021 - 24/10/2021
Time:08:00 am - 04:00 pm
---
Henley Farmers Market
Market Place, Henley on Thames, RG9 2AQ
Date(s): 28/10/2021 - 28/10/2021
Time:08:00 am - 02:00 pm
---