≻
≻
The Bell Book Shop
Looking for something new to read, or seeking a gift? Come to The Bell Bookshop, an independent bookshop which stocks over 20,000 titles.You can find books here that the chain stores ignore, discovering everything from old childhood favourites to your newest obsession. Visit for a wonderful book-browsing experience, and let their friendly and knowledgeable staff find the perfect book for you.
The Bell Book Shop, 52 Bell St, Henley on Thames, RG9 2BL
01491 572583
View next...
Upcoming Event...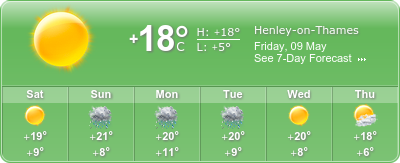 Upcoming Events...
Meditation at the Town Hall
Town Hall, Large Hall, Market Place in the Town Centre, Henley on Thames, RG9 2AQ
Date(s): 12/10/2021 - 28/06/2022
Time:12:15 pm - 01:30 pm
---
Henley Festival 2022
Regatta Site, Henley on Thames, RG9 3DA.
Date(s): 06/07/2022 - 10/07/2022
Time:06:00 pm - 06:00 pm
---
Henley Swim Festival 2022
Temple Island Meadows, Henley on Thames, RG9 3DB
Date(s): 10/07/2022 - 10/07/2022
Time:09:00 am - 04:00 pm
---