≻
≻
The Henley Popup
Located in the stunning grounds of the old Black Boys Inn, on Henley Road between Henley and Hurley - The Henley Popup is a brand new weekend venue within easy reach of the town centre. The views across the valley are endless and the ambience, with its chic terraces and undercover tiki lounge mean you may find yourself coming for lunch and staying for the day to enjoy the best sunset for miles around.
Resident guitarist, Clint Fisher from Nashville plays tunes from across the decades, whilst chef, James Tea prepares sumptuous salads and grills on the 200sqm sun deck. Cocktails, fizzes and a great selection of chilled draft beers will keep you from feeling thirsty.
Seating for up to 150 people. Available for group hire at weekends or events or business usage 7 days a week. Five lovely guest rooms also available for overnight stays.
Open until mid September.
To book call 07800817332 or email henleypopup@gmail.com
Transport
Car or taxi:
Henley - 5 mins
Maidenhead 15 mins
High Wycombe 15 mins
Reading 20 mins
Location
Henley Popup at BBI, Black Boy Lane, Hurley nr Henley on Thames, SL6 5NQ
Date / Time
Saturday, July 10, 2021 - Sunday, September 12, 2021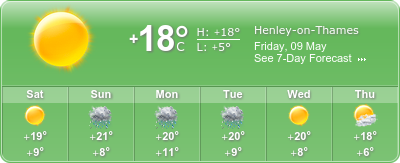 Upcoming Events...
The Henley Popup
Henley Popup at BBI, Black Boy Lane, Hurley nr Henley on Thames, SL6 5NQ
Date(s): 10/07/2021 - 12/09/2021
Time:12:00 am - 12:00 am
---
Regular events...
Henley's Markets
The Farmers Market takes place in Henley Market Place the 2nd Saturday, 4th Thursday and 5th Sunday (if there be one) of the month.
Every Thursday the Charter Market can be found in the Market Place.
---