≻
≻
The Rug Shed
The Rug Shed sources and stocks a wide selection of handmade, beautiful rugs from around the world. Their Henley showroom has a large selection for you to browse. They also offer a range of services, including bespoke rug making, alterations and cleaning and repairs. They have extensive stock in their London warehouses and can always arrange private meetings or home trials for customers.
The Rug Shop, 3 Reading Road, Henley on Thames, RG9 1AB
01491 413321
View next...
Upcoming Event...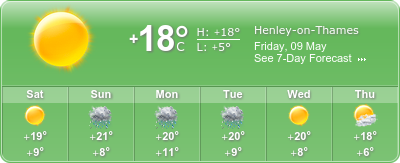 Upcoming Events...
Meditation at the Town Hall
Town Hall, Large Hall, Market Place in the Town Centre, Henley on Thames, RG9 2AQ
Date(s): 12/10/2021 - 28/06/2022
Time:12:15 pm - 01:30 pm
---
Henley Festival 2022
Regatta Site, Henley on Thames, RG9 3DA.
Date(s): 06/07/2022 - 10/07/2022
Time:06:00 pm - 06:00 pm
---
Henley Swim Festival 2022
Temple Island Meadows, Henley on Thames, RG9 3DB
Date(s): 10/07/2022 - 10/07/2022
Time:09:00 am - 04:00 pm
---