≻
Things to Do
Henley enjoys many major events during the course of the year which can be found on the Events section, but even when these aren't on there is plenty to do, below are a few suggestions with more details and ideas to be found in What to Do.
Walking & History Tour of Henley
Henley is easy to walk around so a self-guided tour is an simple option. But to help you, download the leaflet and map to discover the history of the town's buildings in this fascinating and easy walk around historic Henley.
If you want to delve further take a guided tour with Henley-on-Thames Heritage, including Ghost Tours, Murders, Buildings, Men of Power and other fascinating walks.
Brakspears also have a new range of walking trails from their pubs in and around Henley. Further information can be found on Pub Trails website
Walkers are Welcome
A group of local people, supported by Henley Town Council, is encouraging support for the town to join "Walkers are Welcome" (WaW) – a nationwide non-profit making Community Interest Company launched in 2007 to encourage towns and villages to be 'welcoming to walkers'. For more information please contact Peter Stone – petercstone99@aol.com / 01491 412330
The network has expanded rapidly and there are now over 100 locations across the UK that have joined this innovative community-led scheme to benefit from WaW accreditation. Discover more at www.walkersarewelcome.org.uk
The River
The River Thames is at its most elegant as it flows under the towns beautiful 18th century stone bridge. To enjoy it in all its glory with its stunning backdrop of Chiltern Hills and teeming bird life join one of the regular summer public cruises offered by Hobbs of Henley or Salters Steamers, or pilot yourself in a small motor or rowing boat from Hobbs or Hoopers boat yards.
Visit the River & Rowing Museum
Acknowledged by The Times as one of the best 50 museums in the world and with lots to do for families, including an immersive Wind in the Willows experience much loved by children of all ages. In the award winning building by architect Sir David Chipperfield there are also fascinating displays about the river, the town of Henley and the sport of rowing, alongside special exhibitions and a fabulous café.
Browse Henley's independent shops
As an old market town Henley is blessed with a plethora of small, quirky and independent shops. Have a look for antiques, handmade chocolates, beautiful boutiques, cards, gifts, high quality art galleries, antiquarian books plus a traditional independent bookshop all in the easily navigated historic town centre.
Discover hidden pubs
Henley once up a time had more pubs per head of population than any other town in the south east. While those days are gone the town still has many interesting public houses to choose from. Hidden in some of the smaller streets but never too far from the river or town centre are a few exceptional establishments, look out for The Anchor in Friday Street, The Row Barge in West Street or the Bird in Hand in Greys Road.
Enjoy afternoon Tea
With numerous coffee shops to choose from Henley can offer even the connoisseur something special, including traditional afternoon tea with stacked plates of sandwiches and cakes at The Hotel du Vin or The Red Lion Hotel. Or if you are after a river view while you indulge try the Chocolate Café on Riverside where it's hard to resist the temptation of homemade cakes and chocolates.
Take part in the Henley Ale or Gin Trail
If you're interested in a good walk while visiting interesting buildings, meeting the locals and enjoying well-crafted ale, there's no better way of doing it than taking part in the Henley Ale Trail, run by local pub company Brakspear. Download the trail and pick up a stamp at each of the nine pubs in order to win a prize.
Relax by the riverside
Henley is lucky to have extensive parkland adjacent to the River Thames, the more formal Mill Meadows and next door the unspoilt Marsh Meadows. Both are great spots for a picnic and to watch the world go by while being a short walk from Marsh Lock, which is always a great place to watch boats (and people!). In the summer the bandstand in Mill Meadows often has a band playing while deckchairs can be hired from the tourist information centre next to the newly refurbished public toilets.
Follow in the footsteps of Midsomer's Inspector Barnaby
The long running TV series Midsomer Murders (known as Barnaby in much of the rest of the world) has used Henley on numerous occasions as a film location, there was even a Midsomer Regatta filmed during Henley Regatta one year. In 2017, they recorded another episode that included the 'Causton Rugby Team' filmed at Henley Rugby Club. It's easy to visit the locations used for filming with the help of the town's Midsomer walking trail and if you're lucky you'll end up pouring a pint in The Argyll where Inspector Barnaby has a plaque at the bar.
New walking tour to highlight Henley's brewing heritage
A new walking tour of Henley launches later this month, highlighting the town's rich brewing heritage. The 75-minute tour, led by a Blue Badge guide, takes walkers to key brewing sites and iconic pubs and is supported by local brewer and pub operator Brakspear.
The Henley Brewing Heritage Tour will run on the last Sunday of every month, starting on 27th January. It begins at the Hotel du Vin, site of the Brakspear brewery for nearly two centuries until it closed in 2002. The tour takes in several sites with significance to Henley's brewing history, including the Town Hall, the Three Tuns in Market Square and the Bull on Bell Street – now home to Brakspear's Bell Street microbrewery – before finishing at the Angel on the Bridge. A complimentary pint of Bell Street-brewed ale is being offered to walkers for a limited time, served in the Bull or the Angel on the Bridge.
Brakspear chief executive Tom Davies said, "Brewing has been part of the fabric of Henley for more than three centuries; a brewery opened in 1711 on Bell Street - just yards from our current microbrewery, which opened in 2013 - and became the foundation of Brakspear's brewing and pub operation in the town.
"We're proud to be supporting this new themed tour which we're confident will appeal to local residents as well as visitors from the UK and abroad."
Blue Badge Guide Bobbie Latter, who will be leading the tours, said, "Interest in visiting breweries has grown over recent years, in tandem with the growing enthusiasm for locally-brewed beers.
"The fascinating history of brewing in Henley has perhaps not been publicised as much as it deserves, so it's great that we can now inform and entertain our tour guests on the key sites, dates and characters behind this aspect of the town's heritage."
The tour costs £10 per person, including a pint of Brakspear ale for a limited time. Places must be booked in advance by calling 07770 933117 or TicketSource.co.uk. For more information please click brakspear.co.uk/new-walking-tour-highlight-henleys-brewing-heritage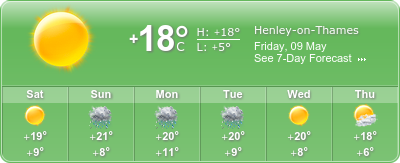 Upcoming Events...