≻
Henley by Train
There are regular Great Western Railway branch line services from Twyford with connections from Reading and London Paddington.
Walking to the river and town centre from the station entrance proceed to Station Rd you will see the river in front of you. For the town centre follow the river around to the left towards Henley Bridge and turn left into Hart St. at the crossroads. Alternatively turn left on Station Rd, walk 2 minutes towards the crossroads then turn right into Reading Rd. The town centre is a 5 minute walk.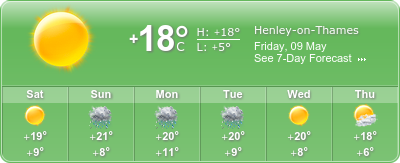 Upcoming Events...
Meditation at the Town Hall
Town Hall, Large Hall, Market Place in the Town Centre, Henley on Thames, RG9 2AQ
Date(s): 12/10/2021 - 28/06/2022
Time:12:15 pm - 01:30 pm
---
Henley Manor Christmas Fair
Henley Manor, Mill Lane, Henley on Thames, RG9 4HD
Date(s): 03/12/2021 - 03/12/2021
Time:03:00 pm - 06:00 pm
---
Regular events...
Henley's Markets
The Farmers Market takes place in Henley Market Place the 2nd Saturday, 4th Thursday and 5th Sunday (if there be one) of the month.
Every Thursday the Charter Market can be found in the Market Place.
---