≻
Videos
Enjoy some of the videos about Henley on Thames.
THE NIGHT BEFORE CHRISTMAS READ ESPECIALLY BY SANTA ....... click below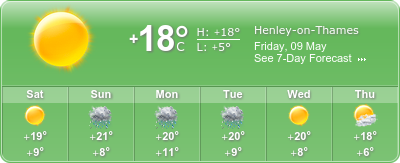 Upcoming Events...
Meditation at the Town Hall
Town Hall, Large Hall, Market Place in the Town Centre, Henley on Thames, RG9 2AQ
Date(s): 12/10/2021 - 28/06/2022
Time:12:15 pm - 01:30 pm
---
Henley Manor Christmas Fair
Henley Manor, Mill Lane, Henley on Thames, RG9 4HD
Date(s): 03/12/2021 - 03/12/2021
Time:03:00 pm - 06:00 pm
---
Regular events...
Henley's Markets
The Farmers Market takes place in Henley Market Place the 2nd Saturday, 4th Thursday and 5th Sunday (if there be one) of the month.
Every Thursday the Charter Market can be found in the Market Place.
---