≻
≻
Wild and Rust
Wild & Rust is a sustainability and well-being retailer based in Henley-on-Thames, offering customers sustainably and responsibly sourced product ranges to include ethically made organic and natural wellbeing soaks, aromas, candles, herbal teas as well as soaps and sanitisers. The range includes certified organic CBD coconut and cocoa oils as well as body balm. Wild & Rust has an extensive range of stunning mood boosting indoor plants offering a monthly subscription service for those looking to enhance their home or workspace and artisan and handmade home décor and kitchenalia as well as stunning one-off vintage and reclaimed handmade pieces of furniture.
28 Duke Street, Henley on Thames, RG9 1UP
01491 576060 and 07855 779630
View next...
Upcoming Event...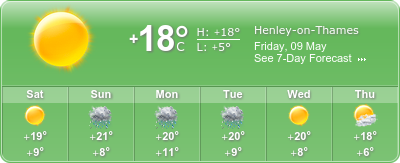 Upcoming Events...
Meditation at the Town Hall
Town Hall, Large Hall, Market Place in the Town Centre, Henley on Thames, RG9 2AQ
Date(s): 12/10/2021 - 28/06/2022
Time:12:15 pm - 01:30 pm
---
Henley Festival 2022
Regatta Site, Henley on Thames, RG9 3DA.
Date(s): 06/07/2022 - 10/07/2022
Time:06:00 pm - 06:00 pm
---
Henley Swim Festival 2022
Temple Island Meadows, Henley on Thames, RG9 3DB
Date(s): 10/07/2022 - 10/07/2022
Time:09:00 am - 04:00 pm
---